Dear Batavia Families and Community,
To open this update, I would like to highlight our dedicated clerical staff, and of course, I have a story to share on this topic:
The other day I was over at Batavia Middle School to meet with a family and staff. Just prior to that meeting, Mrs. Swanson–a clerical member at BMS–made a special point to straighten up the chairs in the office prior to the meeting, and as she was doing so, she proudly commented to me that appearance matters, and we want to make sure all families and parents feel welcome. I appreciated that Mrs. Swanson not only straightened the chairs, but also made that comment. Our clerical staff is often the first voice our parents and families will hear when calling, and this story presented an excellent opportunity for me to share and reinforce the "customer service" approach at BCSD. Mrs. Swanson is certainly a wonderful representative of our staff, and if there are ways we can continue to improve, please let us know.
Last week, we convened our District-wide Strategic Planning Committee, and reviewed the progress of each school's implementation of their respective plans—all of which focus on literacy. I would like to share with you some of the informal feedback the committee received from each school:
"Great job including the aides in planning"
"Reading an article before a Physical Education unit–love it"
"Love Bingo board and involving family"
"Effective use of literacy strategies"
"I liked the opportunity to choose from different ways to implement"
"Love the idea of play to increase attendance"
"I like that there are multiple goals that cover math, ELA, and social-emotional learning"
Thanks to each of our principals and their teams for their great job in leading this process.
Speaking of Strategic Plan, it's time for another brief survey question for you as we continue to review data and adjust our plan:
Thank you for your participation by answering these single question surveys–your responses are always reviewed and considered.
At Monday night's Board of Education meeting, I will be updating the Board on the results and findings from our Technology Study we conducted this past fall, originating in part from the Comptroller's Audit. I am pleased to report that we received a number of substantial recommendations that if and when implemented, will drastically improve both technology operations and more importantly, the instructional programs for our students. Stay tuned for further details, but I thank our staff and student leaders at BHS for their participation in this study.
Bravo and congratulations to our BHS Chorus and Treble Choir on a fantastic performance this past Wednesday night. Our Music Department continues to produce amazing concerts for our families and community. Mark your calendars for March 3-5: our Drama and Production Club's production of Les Misérables is not to be missed!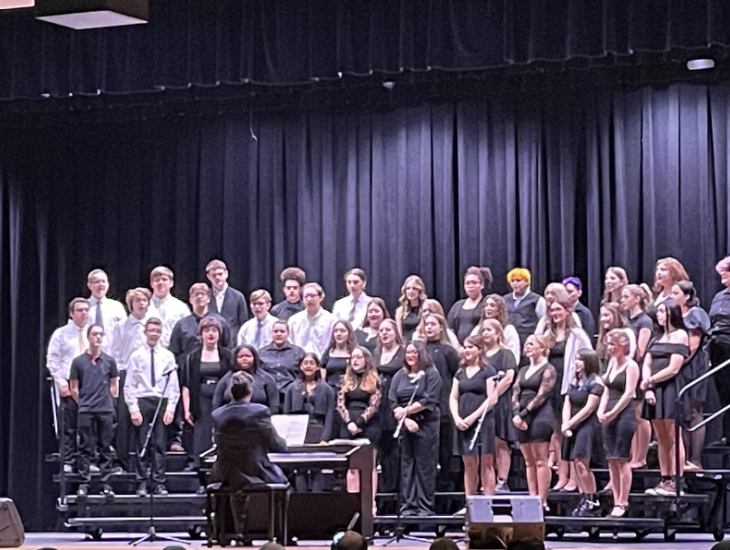 Last week, I had the opportunity to showcase some of our winter student-athletes on WBTA as part of my monthly appearance. They proudly and confidently discussed their respective seasons, their goals, and their teammates. And just like how Mrs. Swanson proudly represented all of our clerical staff, these students did the same for all Batavia students. Way to go Casper, Madeline, Lillian, and Rashawd!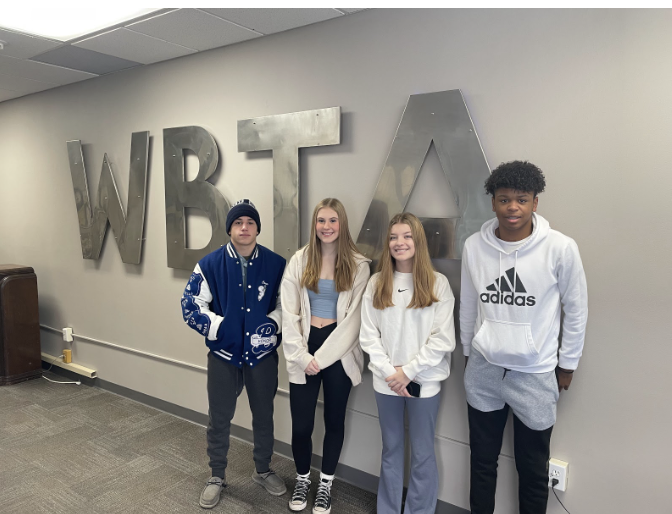 Congratulations to all of our winter sports teams on their accomplishments thus far, including:
The Boys Indoor Track Team on winning the Jack Reed Showcase at RIT on Jan. 28.
The Batavia/Notre Dame Boys Swim Team claimed their first-ever league championship
BHS Cheerleaders finished in first place at their recent competition.
Congratulations to wrestler Casper Stewart on his 5th Sectional Championship and our entire wrestling team for placing third at Sectionals.
Congrats to our Boys Basketball Team on clinching the Monroe County Division 4 League Championship!
Our BND United Hockey Team is currently ranked 12th, and is looking forward to a Sectional game next week
Congrats to our Batavia/Notre Dame Girls Swim Team on their 2nd place finish at Intersectional.
We have so much to be proud of—way to go, Blue Devils!
This month, we celebrate Black History Month, and I was so pleased to have lunch with a newly formed student club at BHS called Umoja, which means "to strive for and maintain unity in the family, community, nation, and race." We discussed several ideas and concepts to promote the very mission of the group, including featuring some new and different black figures in history that may not be as well known as, for example, Jackie Robinson or Rosa Parks. I can't wait to hear more from this group and what they can offer us at Batavia!
Finally, please join me in celebrating National School Counseling Week and recognizing our fantastic counselors across BCSD. Back in my principal days at Albion and Elba, my school counselors were an integral part of my leadership team and served as a valuable resource to all members of our school, and I know that is the case here as well. Thank you, counselors!
One final reminder: We will have a late arrival day for students this Monday, February 13, so please look for detailed information over the coming days, as we have adjusted our arrival windows at John Kennedy and Jackson/Robert Morris based on family feedback we have received.
Have a great weekend! I hope our BHS students enjoy the Snow Ball tomorrow night, and enjoy the Super Bowl…
Jason A. Smith
Superintendent of Schools
585-343-2480, ext 1000
jasonsmith@bataviacsd.org
Twitter: @JasonJasmith & @BataviaCSD