Dear Batavia Blue Devils Community,
At last night's Board of Education meeting, I announced a plan to reopen our schools fully for five days of in-person learning for students who are currently enrolled in our in-person hybrid learning model. This plan will be implemented over the course of the next four weeks with an anticipated start day of April 19, 2021.
I know that our students, parents, teachers and staff have been impacted by this pandemic and that the hybrid model of learning has brought with it significant challenges. With the growing number of vaccinated staff, new federal guidance from the Center for Disease Control, low community and school infection rates, it is time for us to safely and fully reopen for in-person learning.
With that being said, please know that many of the safety and health procedures that we have instituted from the beginning of the year will remain in place.
Families and students who are currently enrolled in our 100% Virtual will see no change or impact to their learning for the remainder of the year.
Principals will be in touch with specific school information on what this means for each of our schools. Please review this embedded timeline for fully reopening Batavia Strong.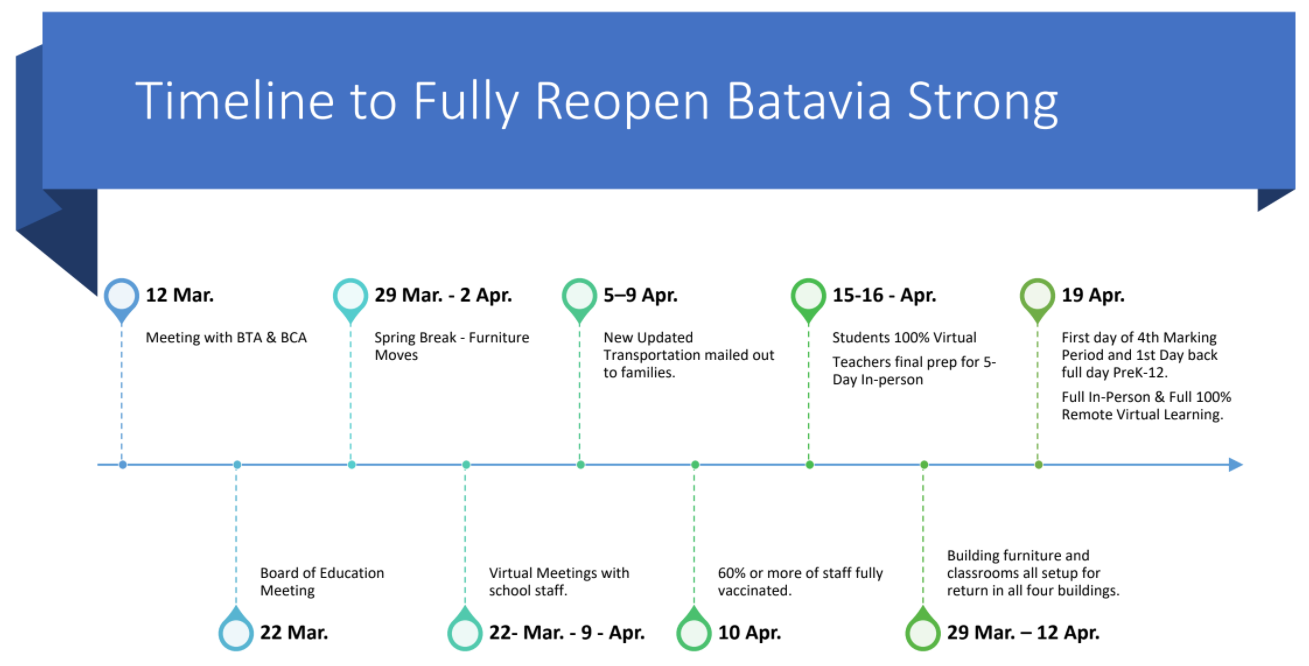 As I close, I want to thank our parents, students and staff for their continued patience as we begin to implement this plan. Please continue to follow us on Facebook @BataviaCitySchools and visit our website at www.bataviacsd.org for ongoing updates. #BetterTogether #WEareBatavia
Sincerely,
Anibal Soler, Jr.
Superintendent of Schools