WELCOME to Batavia Middle School's Parent Teacher Group
Mission Statement:
"Parent involvement is vital for student success and will foster communication, enhance resources and share responsibility promoting intellectual, emotional and physical well-being of the Batavia Middle School students."
Contact Information:
BMS Principal: Nate Korzelius - nkorzelius@bataviacsd.org
President: Tanni Bromley - tannibromley@gmail.com
Treasurer: Jeanne Taggert - rjdoo22610@gmail.com
Secretary: Jenna Arroyo - jenna.arroyo2@gmail.com
Please contact us with any ideas or if you'd like to join the group. We are always looking for new members. We meet once a month to discuss hot topics and upcoming events.
We would love to have you!
Middle School Mindset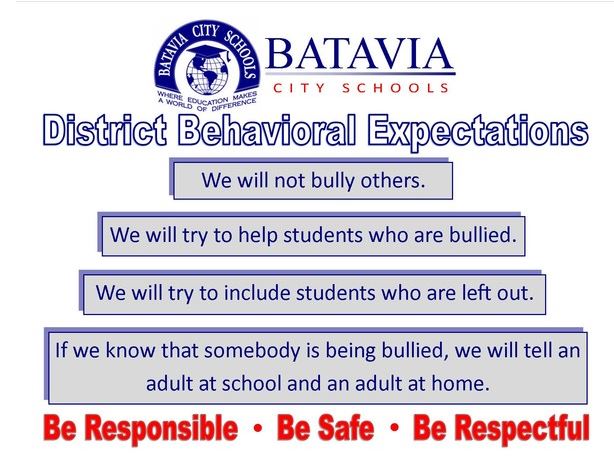 Batavia City School District
Definition of Bullying:
Bullying is when someone repeatedly, and on purpose, says or does mean or hurtful things to another person who has a hard time defending himself or herself. Bullying can take many forms, such as physical hitting, verbal harassment, spreading of false rumors, intentional social exclusion, and sending nasty messages on cell phones or over the Internet.
Positive Behavioral Interventions and Supports
This program is designed to teach expected behaviors to students and then reward students for "doing the right thing." PBIS is a process of creating safer and more effective schools. PBIS is a District-wide approach to educate all children by developing research-based, school wide, and classroom discipline systems. The process focuses on improving a school's ability to teach, support and acknowledge positive behaviors from all students. At BMS, students start the school year off with classroom lessons/activities that teach and review the Mindset. Throughout the school year, students also participate in monthly booster assemblies and activities to review and celebrate our BMS Mindset!