Following Protocols for COVID-19 Symptoms
A note for parents from Nancy Haitz, the District's Director of Medical Services, about COVID-19 testing:
Please know that we must follow proper protocol regarding the coronavirus, and if a child is sent home ill or stays home ill with potential COVID-19 symptoms, that child cannot return to school unless they see a health care provider, get a diagnosis and note to return to school.
The possible signs that could lead to a child being out of school would be fever, shortness of breath, sore throat, loss of taste/smell, headaches, cough, nasal congestion, nausea/vomiting/diarrhea, fatigue or muscle ache. While there are other illnesses that are not COVID-19 that can show similar symptoms, we must follow the protocol that best ensures safety. In addition, many children have chronic conditions such as allergies that have the same symptoms. For children with chronic conditions, a doctor can verify those conditions with a written letter to the school, which would thImageen serve to allow the student to be in school. The main concern in such a case would be if there is a change or worsening of a symptom.
Please see the Flow Chart below regarding COVID-19 Symptoms and Return to School, which may help clarify the process.
For FREE COVID-19 testing call 1-888-364-3065.
In addition, one thing a parent can do to help the whole Batavia community is to get a flu vaccine.
If you have questions or concerns, call Nancy Haitz, NP, Director of Medical Services at 343-2480, extension 2004.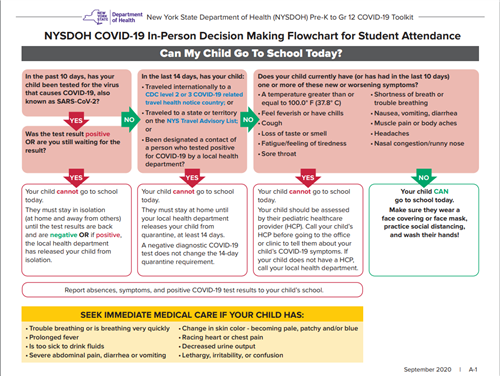 Preventing the spread of respiratory infections:

Wash your hands often with soap and water, especially after you cough or sneeze. Alcohol-based hand sanitizers are also effective.

Cover your nose and mouth with a tissue when you cough or sneeze. Throw the tissues in the trash after you use them.

Avoid touching your eyes, nose or mouth. Germs spread this way.

Try to avoid close contact with sick people.

Stay home if you are sick. This is to keep from infecting others and further spreading the virus.

Cleaning and disinfecting frequently touched objects and surfaces.
Medical experts consistently share that these simple steps continue to be our best defense.