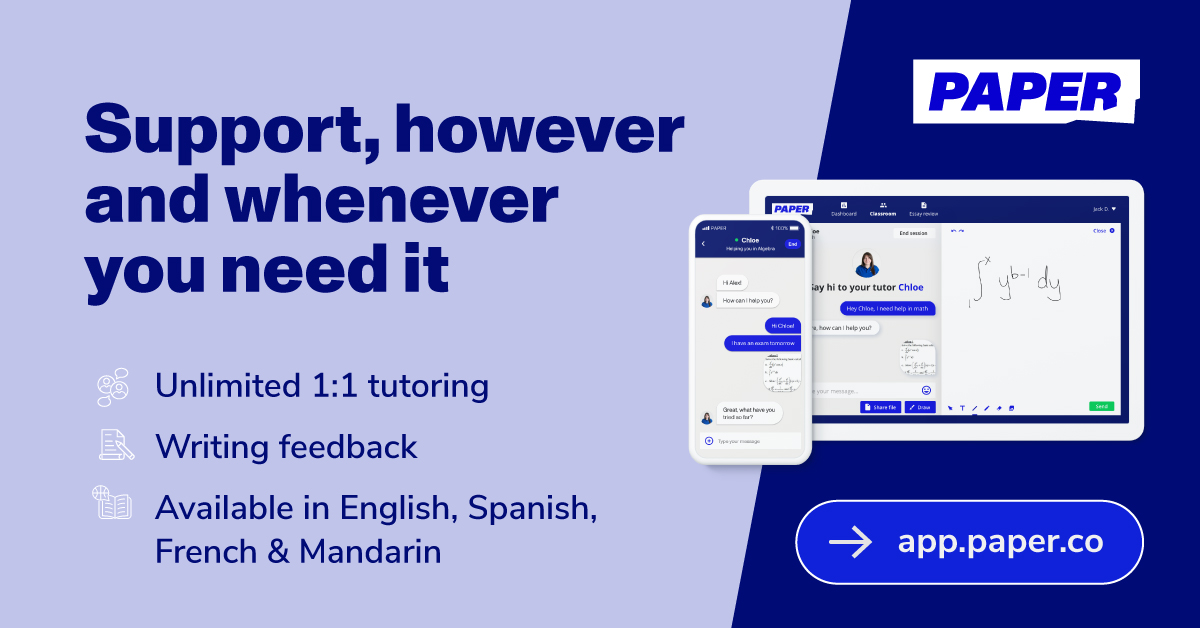 Dear BCSD Parents and Guardians:
The Batavia City School District is excited to announce that starting today, BHS and BMS students will be able to take advantage of Paper, an online platform that provides free 24/7 access to after-hours tutoring services and educational support.
There's a wide range of on-demand options available on Paper, from homework help to essay review and even study support:

Homework Help: When you hit a stumbling block on an assignment, Paper tutors will guide you and help you better understand where or why you're stuck. Simply type in your problem, draw it out on the whiteboard, or upload a file from any device.
Essay Review: Paper is an extra set of eyes when you need it. Tutors review and annotate your writing, including feedback on style, structure, and grammar. From essays to lab reports, you can upload any written work along with your teacher's instructions.
Study Support: There's no limit to how or what you can learn with Paper. Prepare for upcoming tests, get tips on how to grasp concepts effectively, and even get help with elective subjects.

With multilingual options available 24/7 (English, Spanish, French, and Mandarin), it only takes an average of 15 seconds to get connected to one of Paper's expert tutors to help you study more than 200 topics.
Paper tutors practice the Socratic method, where they'll ask students leading questions (without giving away answers), which enables students to think critically and understand their assignment.
Each session is recorded to allow students and teachers the opportunity to go back and review.
To log in to Paper, Students should click on Classlink via their Chromebooks.
Below is a video explaining everything Paper has to offer:
Click here for a step-by-step guide to help students use Paper
Click here to join a webinar for parents/guardians on how to best use Paper.