Two more student spotlights this week! Keep coming back to view more each week.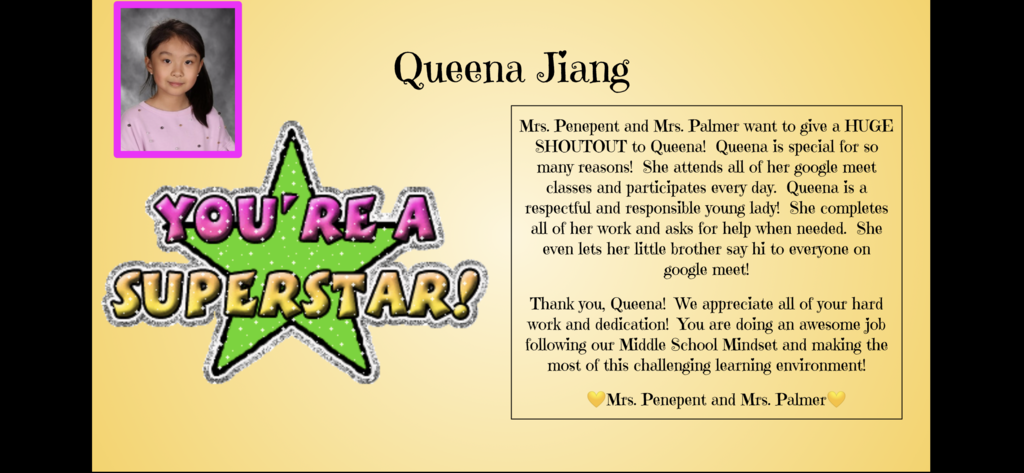 Check out these students who were recognized by their teachers this week during our morning announcements!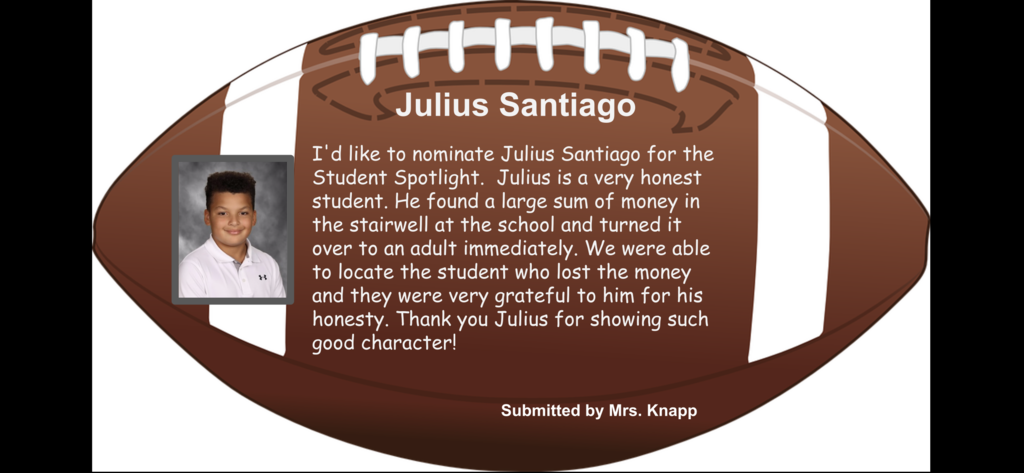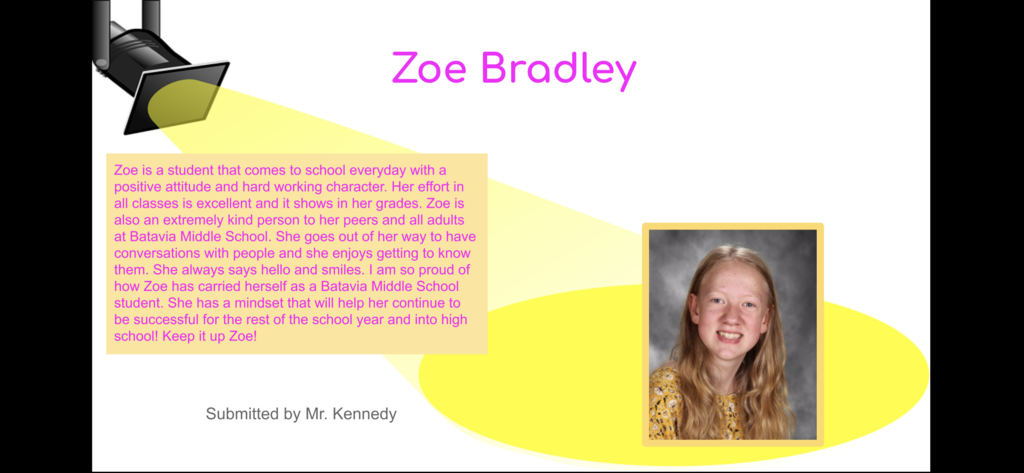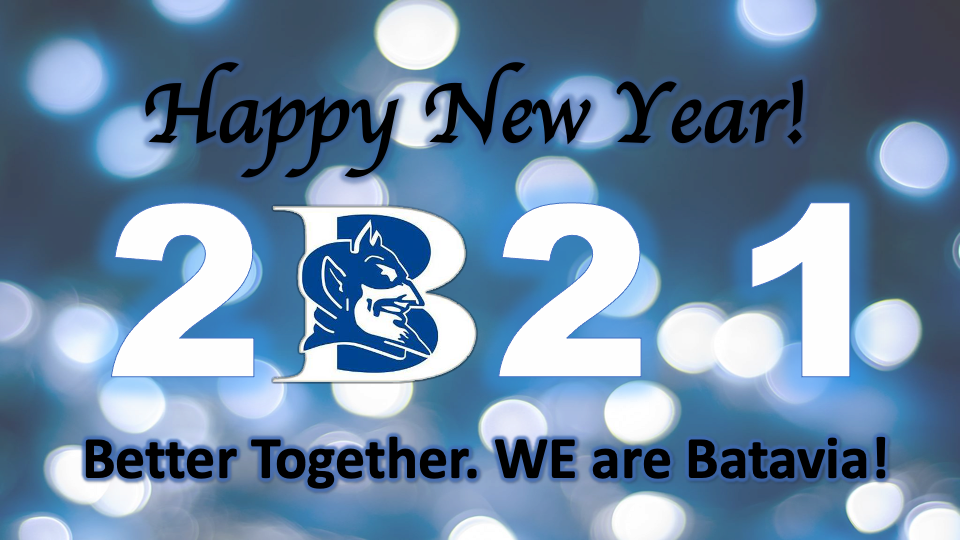 Yesterday, Governor Cuomo announced that the City of Batavia is now in the Yellow Zone. The Yellow Zone designation now requires Batavia City Schools to test 20% of all students and staff on campus over a two-week period. If you have not done so, please don't forget to give consent for Student Rapid COVID-19 testing for your child(ren) by 12/22/2020. Online consent form can be found here:
https://forms.gle/rgCYSjQVK7L4VV3M6
Please note, that failure to give consent will impact your child(ren) ability to attend school in-person and will keep your child in remote virtual learning. Please call your school with any questions. 💙🖤🤍 #BetterTogether #WEareBatavia

Batavia City Firefighters team up with Batavia City Schools for 2020 holiday toy drive. Toys can be dropped of at City Fire Headquarters on 18 Evans St. now -- until Monday Dec. 21. #BetterTogetherBatavia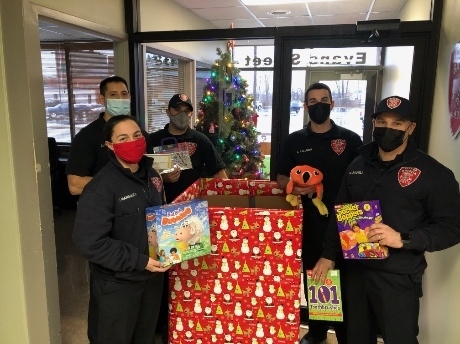 The City of Batavia Police Department is partnering with Batavia City Schools to get input and feedback on improving Police community engagement and outreach as part of the department's reform plan. If you live, work or do business in Batavia, New York please take 5 minutes and respond:
https://s.surveyplanet.com/N50gQHVin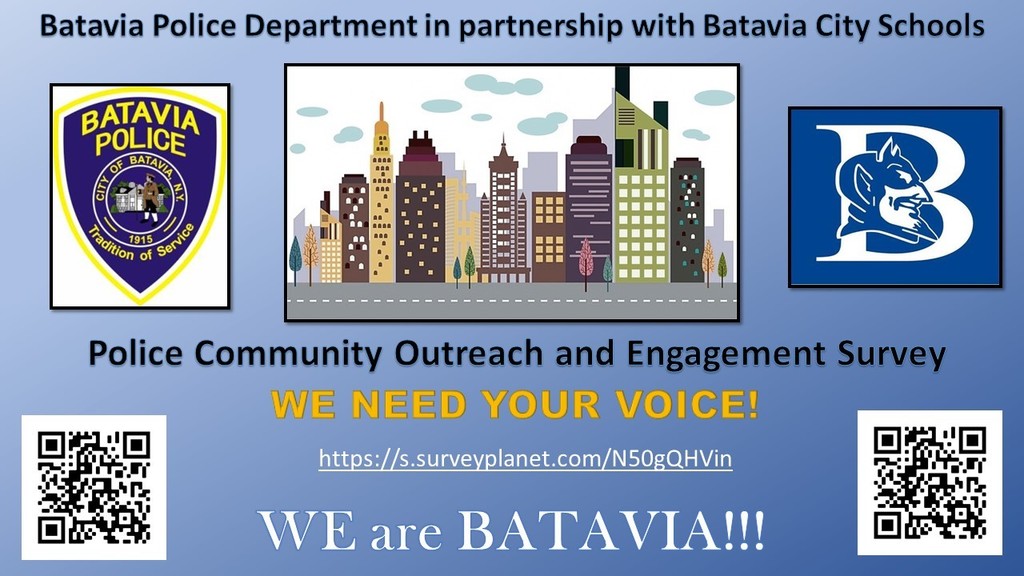 Holiday Donation Drive! This drive benefits our Batavia City Schools Community Closet. Simply bring in a donation to Pub Coffee Hub and receive a FREE coffee! WE are Better Together...WE are Batavia!!! #CommunitySchools #BataviaStrong #BataviaUnited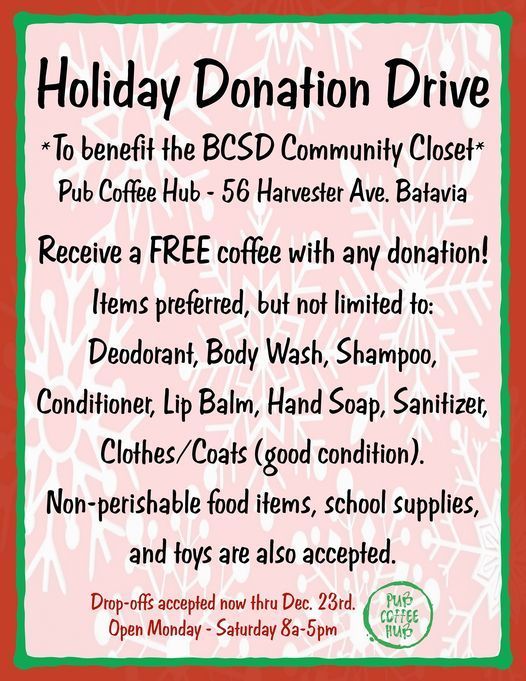 Perfect weather for our Batavia Warm the Night event. Free Coats, gloves, boots scarves and more! Also access to local community agencies! 💙🖤🤍 #communityschools #BetterTogether #WEareBatavia #BataviaUnited #BataviaStrong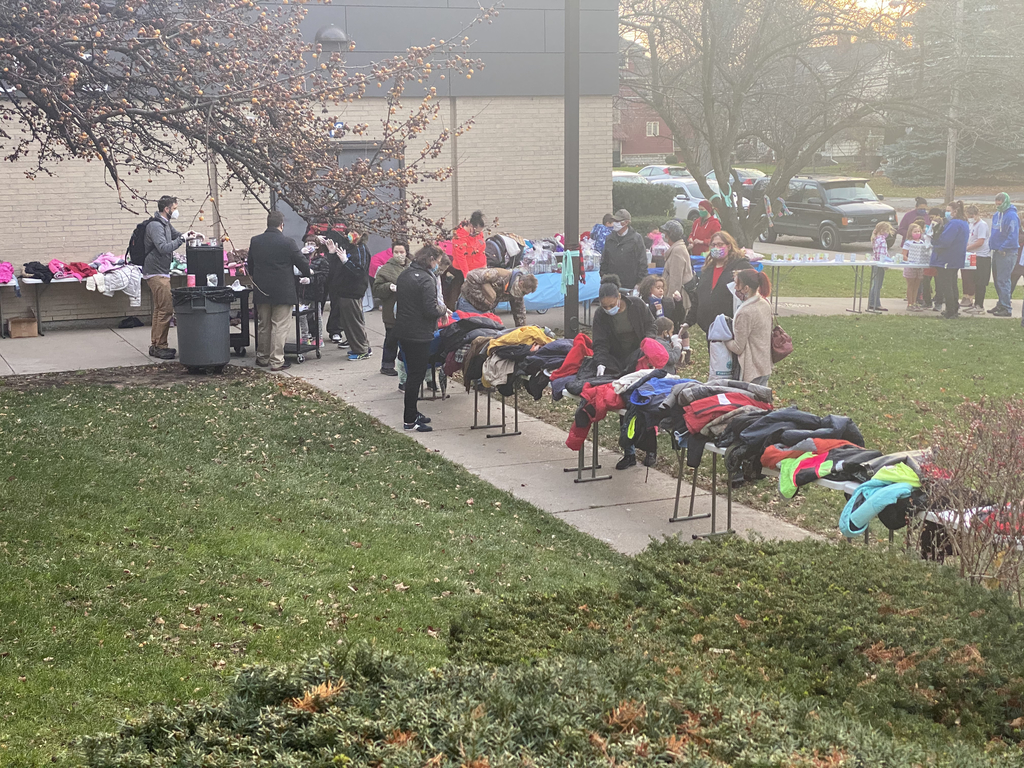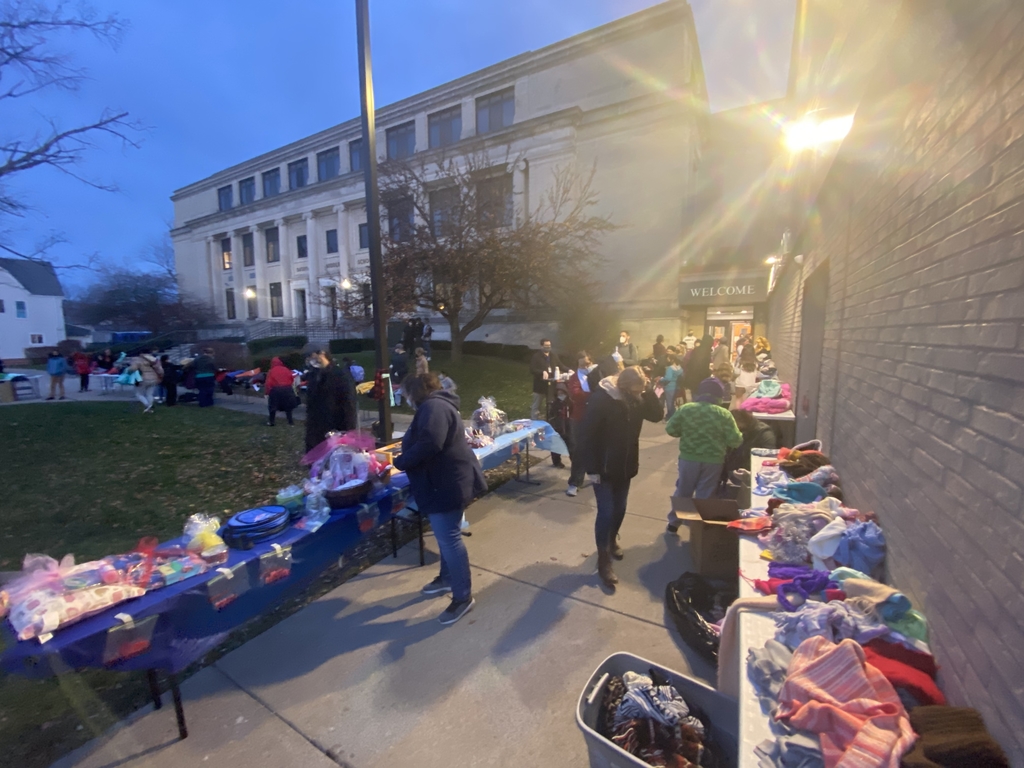 Parents & Guardians - Please check your email for an important message from Superintendent Soler regarding a change for November 23 & November 24, 2020. Thank you!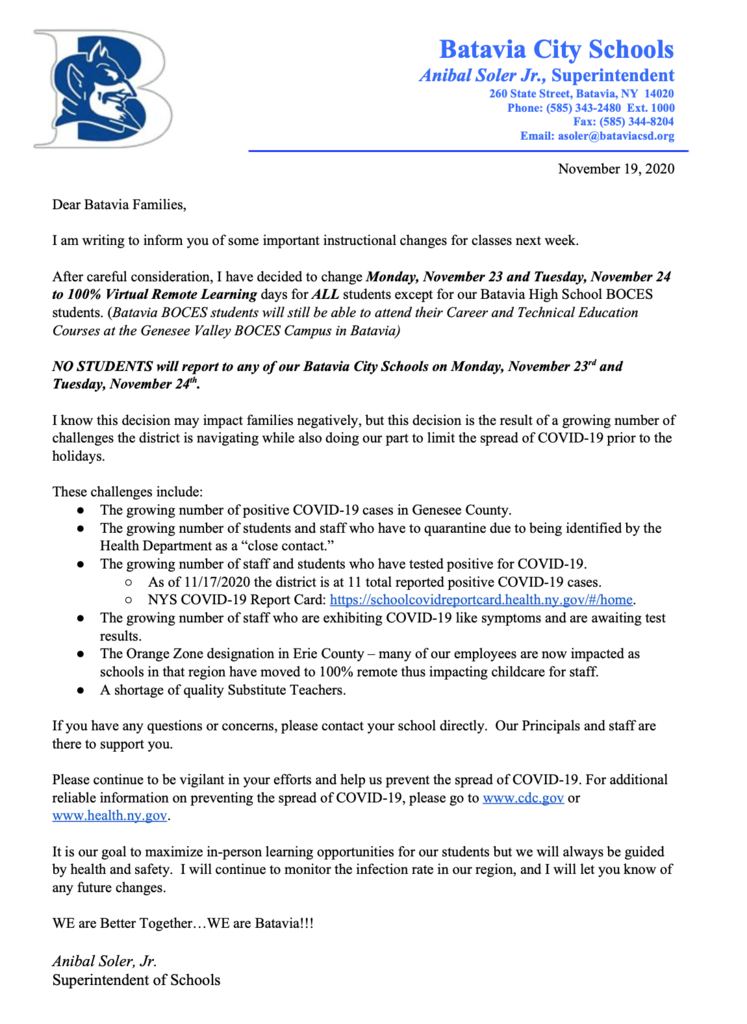 There is no way we could be open during a pandemic without our School-Related Professionals! Here's to you! Thank you for all you do and continue to do for our kids and community! #BetterTogether #WEareBatavia #SRPRecognitionDay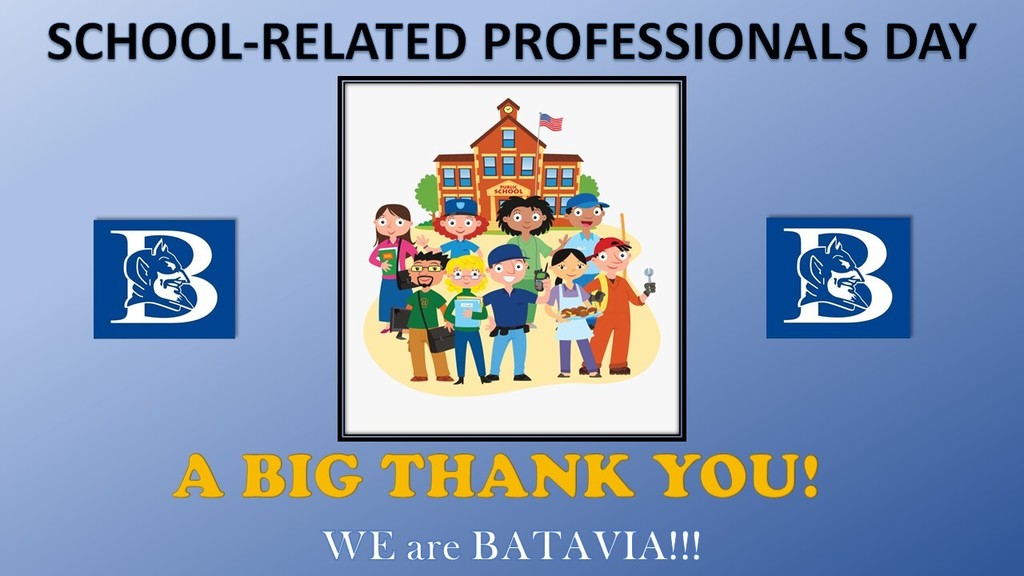 Please join us for our annual Warm the Night event at BMS. BMS is partnering with JK this year; come out this Thursday evening to pick out gently used winter clothing. Thank you to our participating community agencies. We can't wait to see you there! #gearupforabataviawinter #bettertogether #bringcommunitytogether #socialdistantevent 💙🖤🤍 🧥 🧤 🧣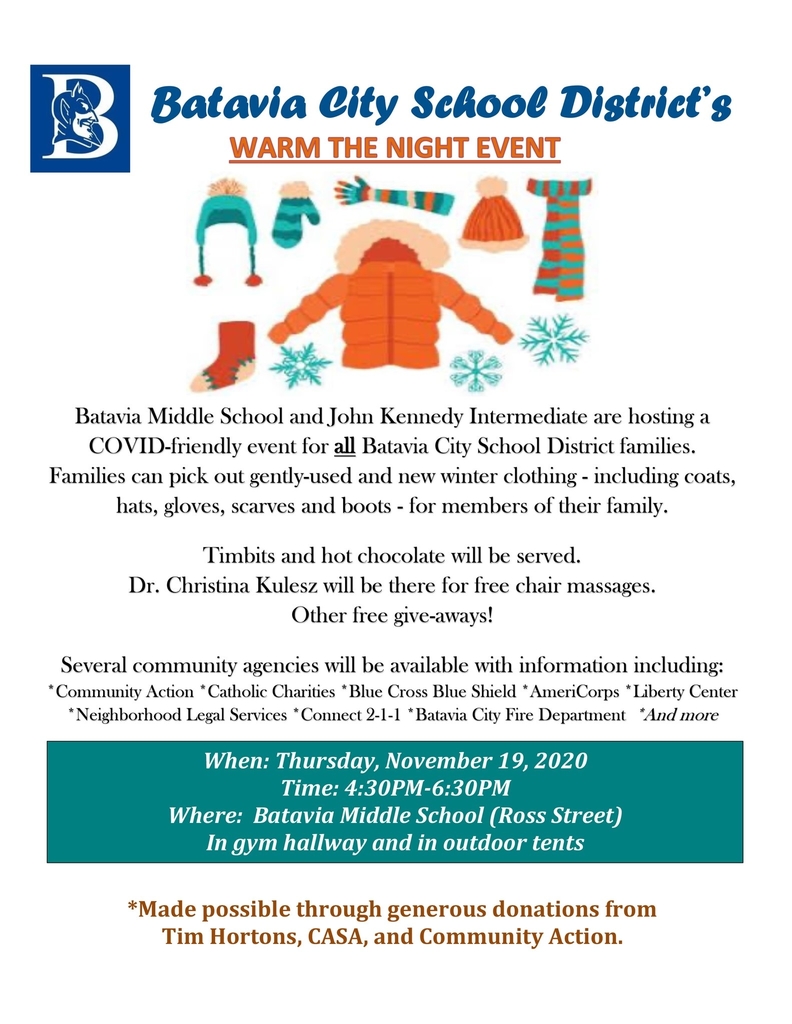 BCSD Families, Please see attached image and check your email for an important staff update from Superintendent Soler.

Please check your email for an important COVID-19 Update from Superintendent Soler regarding Batavia Middle School.

Our BMS Spotlight for the week of 10/26/20 is on Family and Consumer Science. Mrs Marzello taught her students valuable life skills including hand sewing and baking/frosting/eating Halloween cupcakes!! 💙🖤🤍 🧵 🧁 🎃#essentiallifeskills #thepoweroffacs #BMSRocks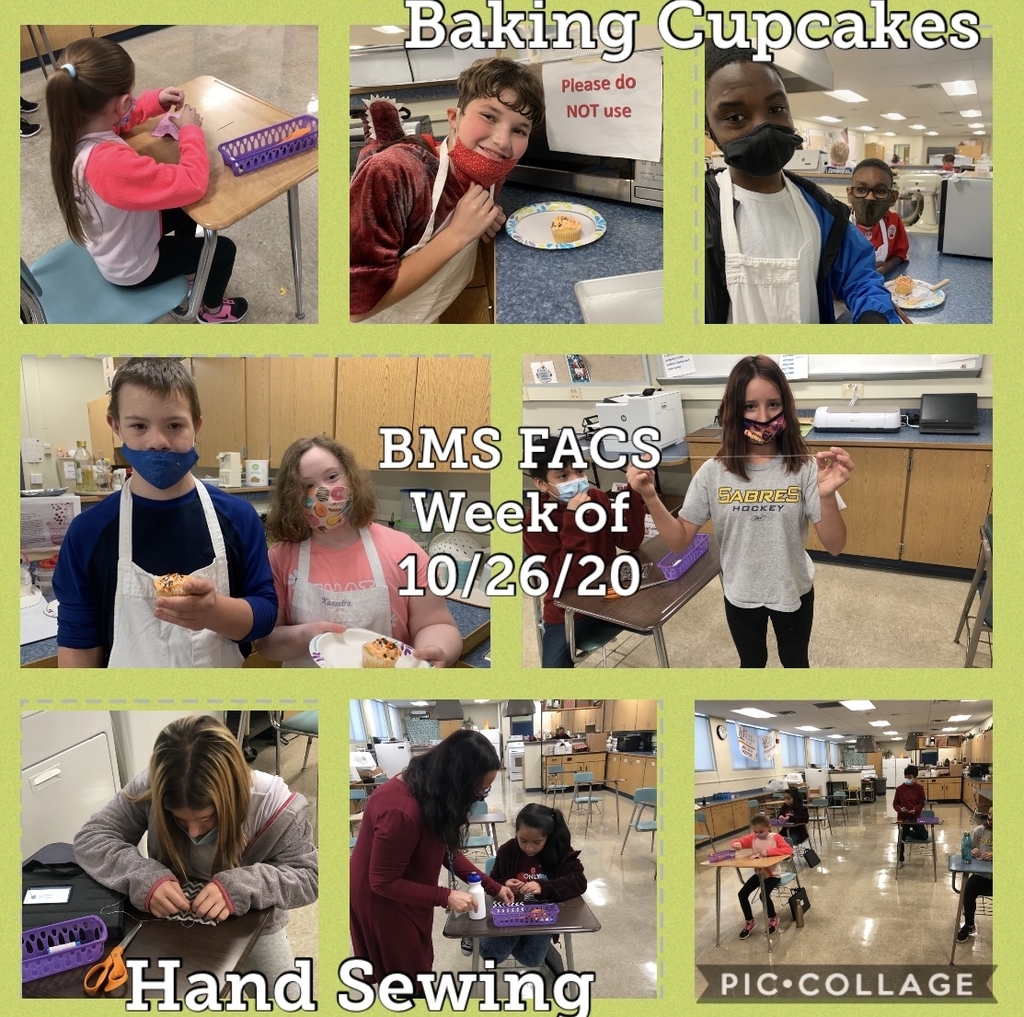 Today BMS wrapped up Bully Prevention Month by celebrating Unity Day. We wore orange as a school to show our committment to come together to stop bullying! Students learned to Pause Before they Post and #ChooseKindness this month. 🛑 🧡🧡🧡💙🖤🤍 #wewillnotbully #BMSPride #Unity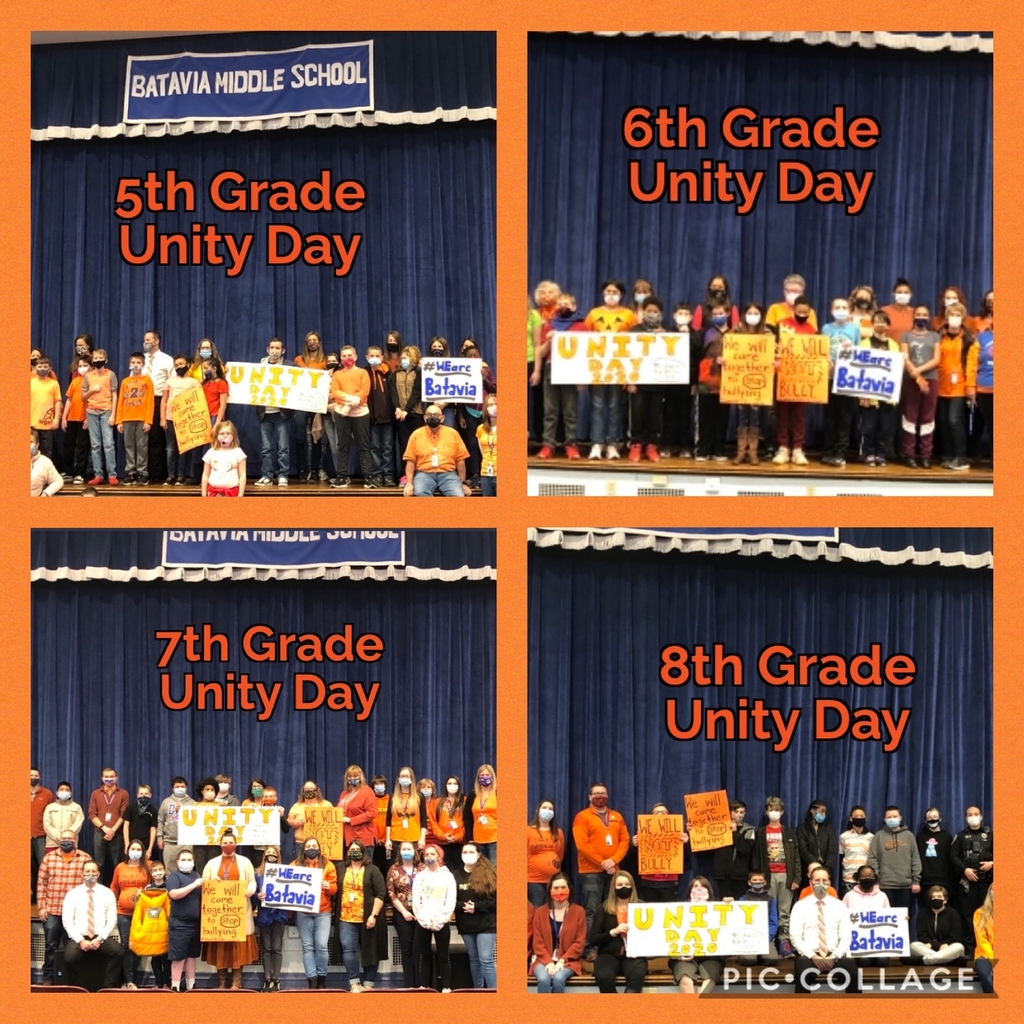 A BMS Reminder: Tomorrow is wear orange day in celebration of Unity Day. We come together as a school community to stop bullying! 🧡🧡🧡 #wewillnotbully #togetherasone #WEareBatavia #BMSPride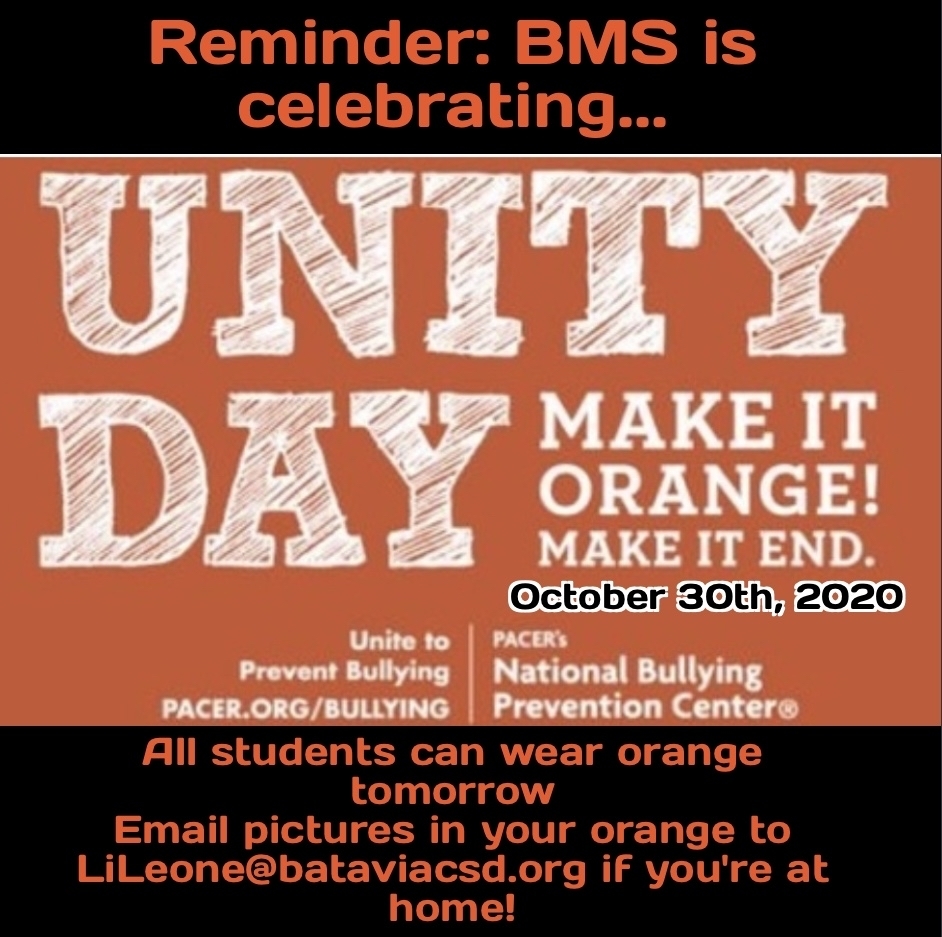 Mrs. Falleti and Mrs. Killian's dry ice mystery lab created some Halloween fun in 5th grade science today! 🧪 🎃 🧊 💙🖤🤍 #scienceisfun #Halloween2020 #BMSRocks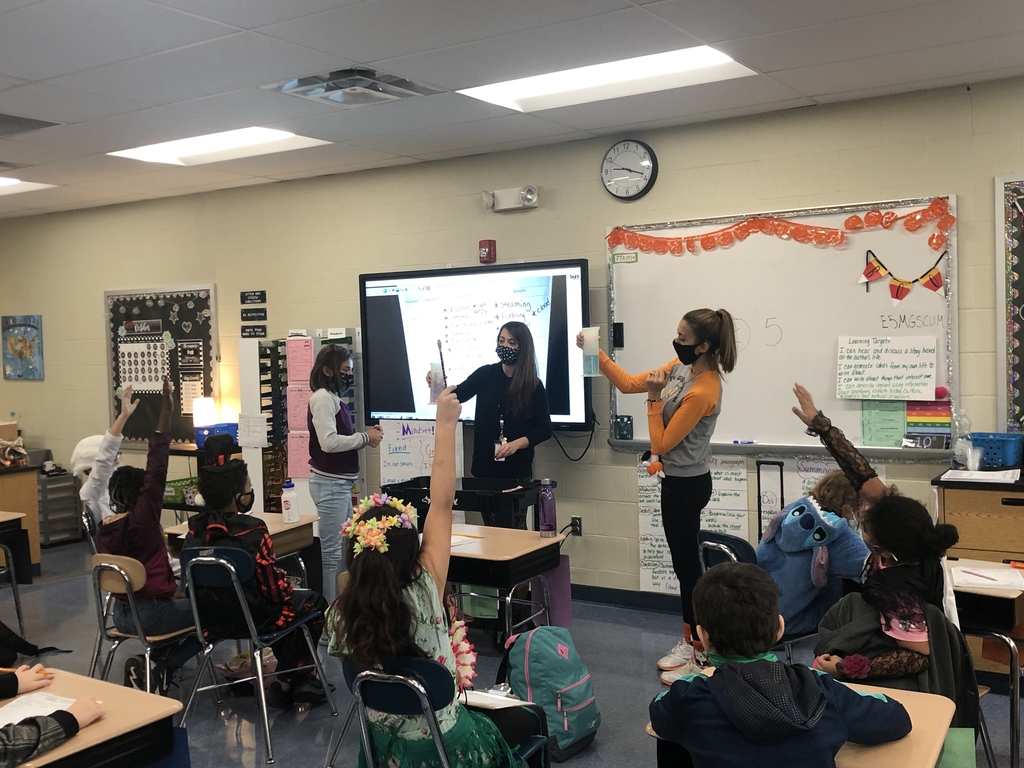 In November, BMS will be celebrating our military people serving presently and currently. If you'd like to honor a loved one as a part of our BMS November Spotlight, please follow the directions below. We are excited to celebrate their accomplishments! 💙🖤🤍 🇺🇸 #VetsDay #BMSPride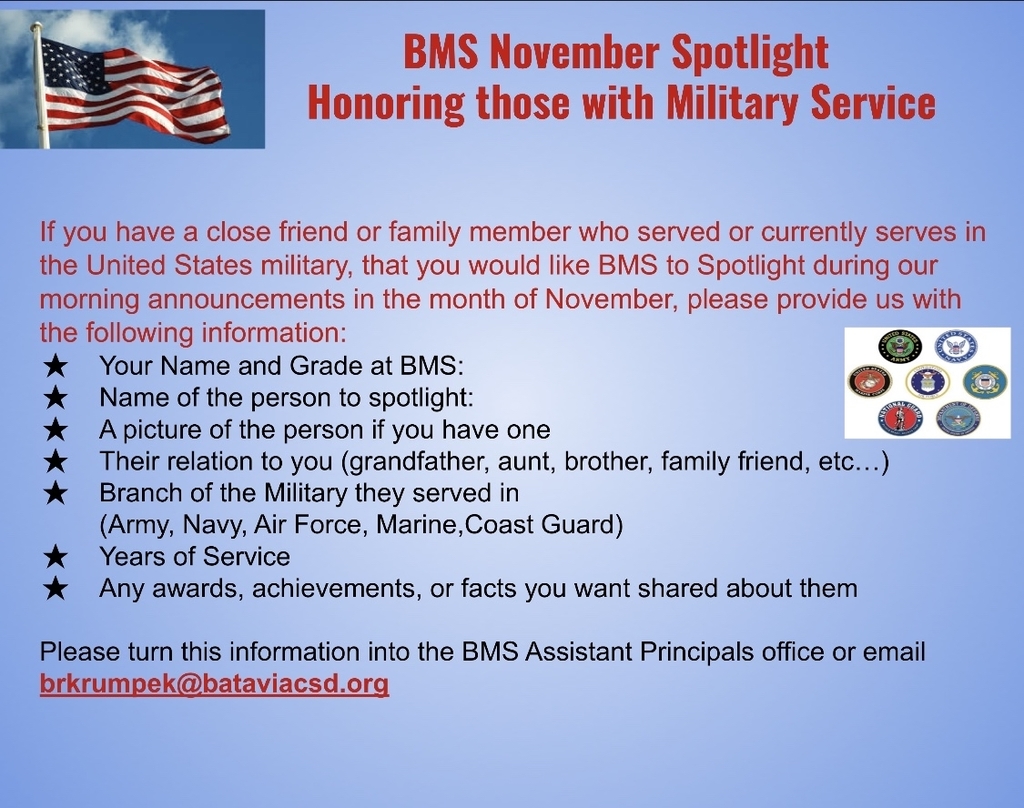 Our BMS Spotlight for the week of 10/19/20 is on Music! We began ensemble classes again this week. It's great to hear the sounds of chorus, band and orchestra through the halls again! Students also worked with Soundtrap and played musical dots in General Music! 💙🖤🤍 🎶 🎻 🎤