Welcome to the new BHS Alumni page!
Connect, communicate and bleed blue!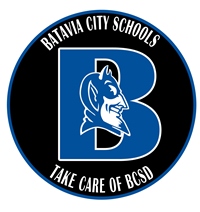 We see you at football and basketball games, musical productions and we might just be teaching your children. Tell us who you are, your contact information and anything else you might like your former classmates to know about you; we'll use this information to create a directory of graduates.
Planning a class reunion? Send us the information and we include it on your "decade" page to help spread the word.
Related Links
BHS Alumni Site
Batavia High School Alumni Site
This site is not associated with the district, but is being utilized as an Alumni Contact Site by several Batavia Alumni.
2010s
Melzie Case, Class of 2012
PO Box 529 Batavia, NY 14021
melziesmusic@gmail.com
585-993-7415
2000s
Matthew Holman, Class of 2003
18 Edgewood Drive Batavia, NY 14020
matthew.scott.holman@gmail.com
585-343-1453
1990s
Michelle Rumble, Class of 1991
15 Edwards St Batavia, NY
lew_ken@yahoo.com
5852973458
Have 4 awesome kids and a grandson who has stolen my heart!

Nicholas Burk, Class of 1997
nburk@bataviacsd.org
Coaches Batavia Football & Batavia Track and Field

Amanda Cragg (Dutton), Class of 1995
107 Elm St., Batavia, NY 14020
manderoo55@gmail.com
5859933983

Jennie Nichols, Class of 1998
629A 16th Ave S Surfside Beach, SC 29575
jennie4ever1@gmail.com
843-655-6658


Sarah (Petty) Wahl, Class of 1999
PO Box 745, Batavia NY 14021
s.wahl2010@gmail.com
5858803088
1980s
Rod Brinkman, Class of 1986
52 North Lyon Street, Batavia, NY 14020
rodbrinkman@gmail.com
585-409-1606


Julia Rogers, Class of 1988
jrogers@bataviacsd.org
585-343-2480, ext 7446

Laura D'Aurisio Pedro, Class of 1984
8460 Violet Lane, Batavia NY 14020
laurapedro@hotmail.com

Pam Sivret, Class of 1989
218 Grandview Terrace, Batavia NY 14020
pamsivret@yahoo.com
1970s

Dwight Ruhlman, class of 1979
4 Watson Street, Batavia
druhlman@bataviacsd.org
1960s

Rose Mary (Greuschow) Case, Class of 1966
PO Box 529
Batavia, NY 14021
rmcase@gmail.com

James R. Owen Class of 1961
2 Redfield Parkway
Batavia, NY 14020
owenone_2001@yahoo.com
60th reunion 2021. The Best Class. Thank you Mayor Owen